About Cyndy Wilson & Richard Gill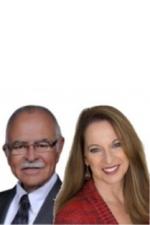 Cyndy Wilson & Richard Gill
Contact Information
Mobile: C-520.300.0732 R-520.977.8330
NMLS #: Cyndy: 208742 | Richard: 208496

Office Address
1610 E River Road Suite 118
Tucson, AZ 85718
Specializing in Reverse Mortgages in Arizona, California, Nevada, New Mexico, and Virginia
You are applying with the YOUR PERSONAL LOAN TEAM. Your loan officer will be Richard Gill or one of our team loan officers licensed in the state for which you are applying for a loan.
Team Members
Cyndy Wilson: AZ LO-0911721 CA-DBO208742 CO-100513199 GA-66397 NM NV-56878 VA-MLO-40721VA NMLS-208742
Richard Gill: AZ LO-0913939 CA-DBO208496 NMLS-208496
---
About Cyndy Wilson
I grew up in Santa Cruz, California as a third-generation Realtor. As a kid, I would help my mother with open houses, going on buyer tours and listing appointments – all of which I found very exciting. I graduated from the University of California - Irvine in 1987 and spent some time in the restaurant industry before moving to Arkansas to pursue mortgage origination with one of the largest banking groups in the state. When my mother passed away in 2000, I moved back to the West Coast and dove headfirst into the challenging real estate market. I continued to build my expertise in both industries, finding the combination to be a valuable asset to my customers. Being well-versed on both sides of the business has truly helped me to connect with my client even more.
When I moved to Arizona in 2008, I decided to take off one hat and focus strictly on mortgages utilizing a variety of new programs that were not available to me in California. My strong work ethic dates back to observing my mother taking care of her customers. She valued people immensely and helped me realize the importance of meeting their needs. I felt that impact the strongest with my brothers and I held her funeral. Expecting it to be a small, quiet gathering, I was amazed by how many people she had touched – friends, of course, but also former co-workers, clients and affiliate colleagues she has worked with. Her devotion to taking care of people lived on.
Joining Peoples Mortgage has been a great match and I am confident that our similar customer service philosophies will reap great rewards. Here, I have been exposed to even more programs and technologies to support my business and customer base.
I'm known for being a bit of a workaholic, however, when I do find time for myself, I enjoy spending it with friends and family attending sporting games, barbequing and going to the movies. Whether it is a day drive to wine country, riding my Vespa to the Desert Museum or heading up Mt. Lemon for fresh air and beautiful views – I just love being outdoors. I also enjoy volunteering for various activities and groups within my community including the Tucson Association of Realtors, the Tucson Association of Realtors Marketing and Home Tours, and REBAR, a day of social media and continuing education programs for Realtors.
About Richard Gill
I'm a fifth-generation Tucson native and studied business administration at the University of Arizona. I began my career in the insurance industry where I worked for more than a decade before switching gears and becoming a loan originator in the midst of the nation's housing collapse.
I've earned my success, however, through strong communication with my clients and always exceeding expectations. I've built a business and reputation in this community through great customer service. Peoples Mortgage shares this first-rate caliber work ethic and provides people and products that help me deliver quickly to clients and Realtors.
In my free time, I enjoy spending time with family, which includes two daughters and five grandchildren, all of whom are local. I volunteer with Kindred Care for disabled people and also enjoy golf, foosball and swimming.
LO Licensing: AZ LO-0911721 CA-DBO208742 CO-100513199 GA-66397 NM NV-56878 VA-MLO-40721VA NMLS-208742 Company Licensing: AZ BK-0904164 California - FLL603L266 / RMLA4130661, Licensed by the Department of Financial Protection and Innovation under the California Residential Mortgage Lending Act | www.peoplesmortgage.com/privacy-policy CO, Regulated by the Division of Real Estate GA-42496, Loan Officers licensed in GA are Georgia Residential Mortgage Licensees NM NV-4200 VA-MC-5599 For licensing information, go to: www.nmlsconsumeraccess.org NMLS-6274